| | |
| --- | --- |
| Birthdate | April 25th, 1947 († 2016) |
| Birthplace | Amsterdam, The Netherlands |
| Length | 1.78 m (5 ft 10 in) |
| Position | attacking midfielder |
| Number | 14 |
| Nickname | El Salvador, De Verlosser, Het Orakel |
| Traits | Speed Dribbler |
Cruijff Salary & Net Worth
How much did Johan Cruijff earn?
Johan Cruijff has a net worth of...
20 Million Euro's (18 Million Dollars)
He was already a legend in Amsterdam and by far the highest paid player in the Dutch Eredivisie. His transfer from AFC Ajax to FC Barcelona made him the most expensive football player in the world at that moment (1973). In Barcelona he became a global icon and his wealth grew significantly. Even though he never earned the wages he was used to in Spain, he always assured that his brand was impeccable and thus he remained a very wealthy individual even after his career. His endorsement deals were nothing to sneeze at. The legend showed up in commercials for Marlboro and Chupa Chups, among others. This netted him huge amounts of cash. His net worth at the time of his death is assumed to be roughly 20 Million Euro's (18 Million Dollars).


Current Job
What does Cruijff currently do?
After his career as a player and a coach he put his efforts into charity and created his own foundation. A beautiful initiative that lets children of all ages play sports in public places. Wonderful.
(Image: IMGur)
Iconic Moments
Introduction of the Cruyff Turn
This was his most deadly move. The way he turnes and shakes off his defender is just absolutely brilliant. It is so brilliant in fact that this move has his own Wikipedia Page and is also a part of the trick repertoire in the popular FIFA games series.
(Image: Sportnieuws.nl)
Spectacular volley introduced him on the world stage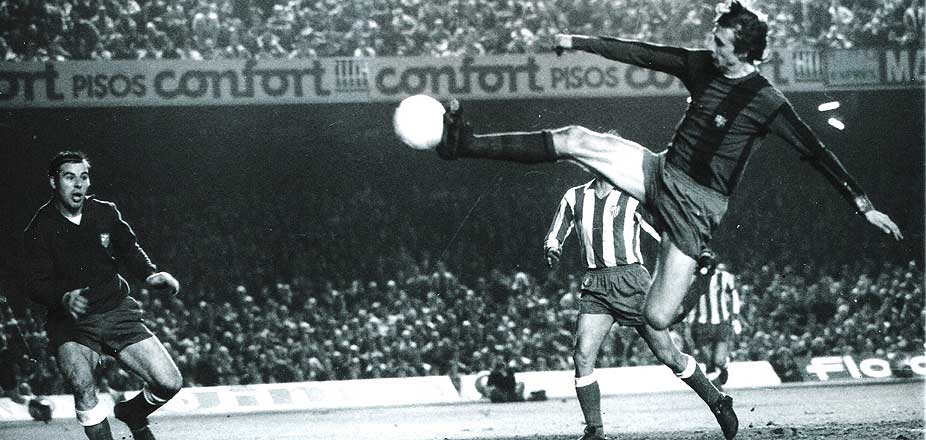 This spectacular volley went absolutely viral at the time. Not only was it a brilliant goal but it also truly marked the arrival of his iconic status at Barcelona. After this goal there was no mistake: he was the best in the world and FC Barcelona were a true force to be reckoned with.
(Image: Worldofjohancruyff.nl)
Love Life - Single, Girlfriend or Wife?
Johan Cruijff Wife - Danny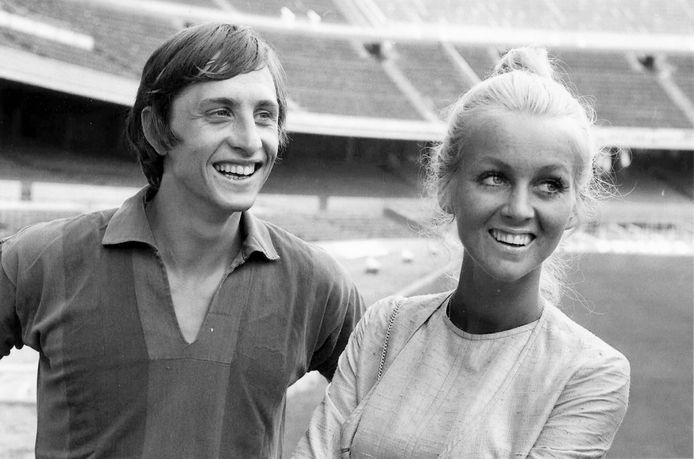 Meet his wife Danny. The two got married in 1968 and they were inseperable. They lived a long and happy life in Barcelona.
(Image: Wikipedia.com)
Johan Cruijff Wife - Danny
The two had been together for more than 40 years before Johan passed away in 2016. She still misses him dearly.
(Image: AD.nl)
Family - Get to know them
Cruijff Son - Jordi

Jordi was the only son that he had and he definitely received some of the 'phenomenal genes'. He had a decent career of himself, playing for FC Barcelona and Manchester United among others. These days Jordi is the 'head of the family' and he helps manage the Cruyff Foundation.
(Image: NOS.nl)
Cruijff Daughter - Susila

He had two daughters, but they were actually very shy. They never looked to be in the spotlights and thus this sighting of Susila is extremely rare. She went on TV to promote her fathers foundation and actually admitted that she hates the spotlight. Cute.
(Image: Imgur)
Cruijff Daughter - Chantal

Believe it or not, the other daughter he had was even more shy! She has never been spotted publicly anywhere and this is the only photo we could find of the legendary Salvador and his Chantal.
(Image: Imgur)
Cruijff Car - What does he drive?
Porsche 911
A classic. The legendary number 14 loved his cars and none more than this beautiful Porsche 911. Just look at his face, he is ecstatic.
(Image: Autoblog.nl)
Citroen
Another classic is this Citroen. It is hard to imagine these days but back in the day this was the ultimate car a young man could drive. Speed and style. Just wat he stood for.
(Image: IMGur)
House - Where does he live?
Location: Amsterdam, Netherlands
The house he grew up in. This is actually quite an iconic place and it is still around to this date. Johan loved to play football here and he often used the house as a goal. Many broken windows later it is safe to say it was all worth it.
(Image: Geheugenvanoost.nl)
Location: Barcelona, Catalonia
This is the house that he and Danny bought in 1991. He had lived here up untill his death in 2016. It has since been sold for more than 5 million euro's.
(Image: Hollywoodhuizen.nl)