Join WTFoot and discover everything you want to know about his current girlfriend or wife, his shocking salary and the amazing tattoos that are inked on his body. Find out what house the English defensive midfielder lives in or have a quick look at his cars!
Wiki
| | |
| --- | --- |
| Birthdate | November 5th, 1998 |
| Birthplace | Pembury, England |
| Length | 1.81 m (5 ft 11 in) |
| Team | Tottenham Hotspur |
| Position | defensive midfielder |
| Number | 47 |
| Nickname | Marshmallow |
| Traits | Interceptor |
Bio: Hello and welcome to all WTFoot fans from over the world. In this wiki we are going to tell you everything there is to know about Marshmallow! This holding midfielder is currently playing for Tottenham Hotspur in the Brittish Premier League. As we said he can play as a holding (defensive) midfielder but he can just as easily move back and play as a centre back, talk about versatility! He was born in November of 1998 and he started his career at the Youth-Academy of Tottenham Hotspur. He played a lot of games for several youth-teams, including the U17 and U18. He was even the skipper (captain) for some of those teams for several periods in the season. Impressive stuff from Marshmallow. He later on also played a bunch of games for the U23 side. He could just be the perfect backup for players such as Eric Dier and Luke Amos. We think it is only a matter of time before this talented youngster will have his impact on the first team of Tottenham Hotspur. For now, let's have a look at his life.
Marsh Salary & Net Worth Revealed
SALARY 2019
How much does he earn?
In 2018 the defensive midfielder signed a contract with Tottenham Hotspur that nets him a whopping salary of 250,000 Euro (219,000 Pound) per year. We have crunched the numbers, this means he earns €683 (£586) per day and €28 (£24) per hour!

| | | |
| --- | --- | --- |
| Per year | €250,000 | £214,457 |
| Per month | €20,833 | £17,871 |
Since you've been viewing this page, George Marsh has earned...

Net Worth & Market Value
| | |
| --- | --- |
| Net Worth | 250.000 Euro (220.000 Pound) |
| Market Value | 2.5 Million Euro (2.3 Million Pound) |
His net worth is still relatively low, given the fact that he has only just started playing professional football for the seniors. Currently his net worth is roughly 250.000 Euro (220.000 Pound). His Market Value is on the rise, obviously. It is currently about 2.5 Million Euro (2.3 Million Pound).


Marsh Tattoo - Does he have one?

Check out his teammates most hilarious and insane pieces in our Top 20 Craziest Tattoos of Tottenham Hotspur Players 2018-19 (REVEALED)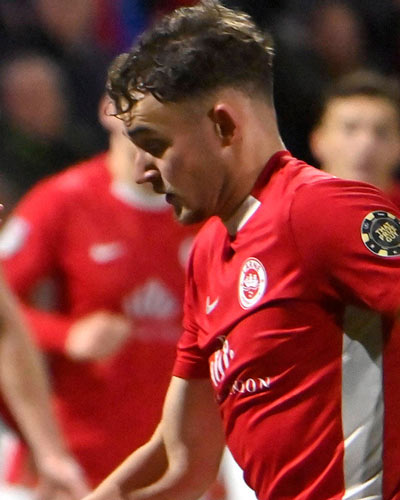 No ink yet. We doubt he will eve have tat's, he is just not really the type for it.
(Image: Voetbal.com)
Love Life - Single, Girlfriend or Wife?

Do NOT miss this one! Check our Top 30 Most Stunning Tottenham Hotspur Players Wifes, Girlfriends and Affairs (Juicy Pics & Stories)




Family - Get to know them
No information available about his family.

Marsh Car - What does he drive?
None
He is currently just driving on the field. His only love is the ball, such dedication!
(Image: Hitc)
House - Where does he live?
No information available about his houses.


Boots
On what boots does the English number 47 of Tottenham Hotspur play?
Nike Magista Opus II (Season: 2018/2019)
During the 2018/2019 BPL season the English defensive midfielder plays on model Nike Magista Opus II.

Memes
We have collected the funniest memes on the web. Have a laugh! ¯\_(ツ)_/¯
Video


An interview in which you can see how composed this youngster is. Very interesting video!