Join WTFoot and discover everything you want to know about his current girlfriend or wife, his shocking salary and the amazing tattoos that are inked on his body. Find out what house the Dutch forward lives in or have a quick look at his cars!
Wiki
| | |
| --- | --- |
| Birthdate | January 19th, 1999 |
| Birthplace | Wieringen, the Netherlands |
| Length | 1.79 m (5 ft 10 in) |
| Team | PSV Eindhoven |
| Position | forward |
| Number | 9 |
| Nickname | Peasant |
| Traits | Finisher |
Malen Salary & Net Worth Revealed
SALARY 2020
How much does he earn?
In August 2019 the forward signed a contract with PSV Eindhoven that nets him a whopping salary of 1.2 Million Euro (1 Million Pound) per year. We have crunched the numbers, this means he earns €3,288 (£2,740) per day and €137 (£114) per hour!

| | | |
| --- | --- | --- |
| Per year | €1,200,000 | £1,000,000 |
| Per month | €‭100,000‬ | £83,333 |
Since you've been viewing this page, Donyell Malen has earned...
Wow! This means the average man in the UK needs to work for at least 2.77 years to earn the same as Peasant earns in only 1 month.

Net Worth & Market Value
| | |
| --- | --- |
| Net Worth | 300,000 Euro (253,000 Pound) |
| Market Value | 18 Million Euro (15.2 Million Pound) |
He's got a good agent in Mino Raiola and should see his net worth rise from its present value of 300,000 Euros soon. The current market value of our striker is about 18 million Euros.


Malen Tattoo - Does he have one?
He's all covered up in Eindhoven and doesn't reveal much about the art on his body.
(Image: Instagram.com)
But we discovered that he, in fact, has a tattoo on his shoulder. This was on holiday in Bali with his love.
(Image: Instagram.com)
Love Life - Single, Girlfriend or Wife?
Donyell Malen Girlfriend - Liesje Chanayla
The couple look pretty in spite of the red-eye. They've been dating for a while now. She is of Surinamese origin, just like our footballer.
(Image: Instagram.com)
Donyell Malen Girlfriend - Liesje Chanayla
We're not sure if Liesje is her real name. It has a funny meaning in Dutch. The couple happen to celebrate PSV's Eredivisie triumph in 2018.
(Image: Instagram.com)
Family - Get to know them
Father - Robert

Dad Robert is of Surinamese origin. We know where our winger gets his athleticism from. Dad looks fit for his age.
(Image: imgur.com)
Mother - Mariska

Mum Mariska is Dutch. She played a very important role in his development as a footballer. She has been a pillar of strength for this boy. He's lucky to have a mum like her.
(Image: imgur.com)
Grandmother - Marian

He's also really fond of his grandmother Marian. She gets nostalgic as she shares a few bits about his childhood.
(Image: nos.nl)
Malen Car - What does he drive?
Mercedes Benz
The choices that he made in his life so far have all been classy, be it personally or professionally. It includes his choice of transport as well. He drives a Merc.
(Image: Instagram.com)
Mercedes Benz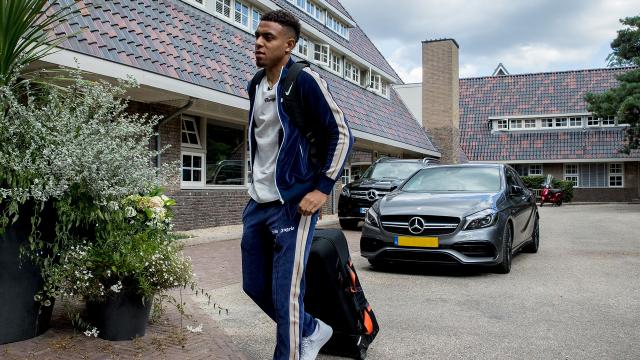 This wide shot gives us a better view of his car. He arrived for training with his national team in it. Can you tell the model of this Merc?
(Image: knvb.nl)
House - Where does he live?
Location: Westerland, the Netherlands
The house in the middle is where he grew up as a child. His mum would drive him to training and back from right here. It's inspirational in a way to look back at his humble beginnings.
(Image: nos.nl)
Bio
A skilled attacker that can use both his left and right leg to cause damage, this technically gifted youngster was born in Wieringen, Netherlands to a Dutch mother and a Surinamese father in 1999. He represents the future classic story of modern football: boy can play football well. Boy goes to Ajax. Even before the boy signs a professional contract at the age of 16, he answers the call of a top club from abroad. Yes, he's one of those youngsters that decided to quit Ajax's academy to get schooled at Arsenal's in England. He has since returned to the Netherlands and now plays for PSV as a striker, after having played for their reserve side for a year. Nicknamed Peasant, due to his rural background, our striker is an able finisher. Other notable aspects of his game are his speed. He's a pacy forward and can dribble the ball at high speed as well. He's very agile, and his strength combined with his stamina make him a serious threat in front of goal. He won the Eredivisie in the 2017-18 season with PSV, a striking achievement for a youngster who had just made it back to Holland. He's plays for the senior Dutch squad internationally and has played for them in every single youth team possible, but the Under-20 level.