Join WTFoot and discover everything you want to know about his current girlfriend or wife, his shocking salary and the amazing tattoos that are inked on his body. Find out what house the English right back lives in or have a quick look at his cars!
Wiki
| | |
| --- | --- |
| Birthdate | October 7th, 1998 |
| Birthplace | Liverpool, United Kingdom |
| Length | 1.75 m (5 ft 9 in) |
| Team | Liverpool |
| Position | right back |
| Number | 66 |
| Nickname | Trent |
| Traits | Early crosser |
Bio: This youngster is a Liverpudlian through and through. He was not only born in the city of Liverpool but he also only ever played for one club, both in the juniors as well as in the seniors. You guessed it: that club is Liverpool. Before having played for 12 years in the youth academy of Liverpool he finally made the move to the senior team in 2016. He had his breakthrough season in 2017-2018 when he played 33 games and scored a few goals as well. One of the most important aspects of his game is his ability to cover the entire right hand flank of the pitch with his overlapping runs. He never runs out of gass and as such he is playing a very important part in the team. Not only has he played for Liverpool now, but he has also played games for the English national team The Three Lions. He was a part of the team that had a very succesful World Cup in Russia 2018. The English side finished 4th in the tournament and the right back played 1 game. That game was against Belgium and it was also the only game he played. Kieran Trippier was the starting right back for the rest of the matches the English squad played.
Alexander-Arnold Salary & Net Worth Revealed
SALARY 2019
How much does he earn?
In 2017 the right back signed a contract with Liverpool that nets him a whopping salary of 2.5 Million Euro (2.2 Million Pound) per year. We have crunched the numbers, this means he earns €6,831 (£6,141) per day and €285 (£256) per hour!

| | | |
| --- | --- | --- |
| Per year | €2,500,000 | £2,247,441 |
| Per month | €208,333 | £187,287 |
Since you've been viewing this page, Trent Alexander-Arnold has earned...

Net Worth & Market Value
| | |
| --- | --- |
| Net Worth | 3 Million Euro (2.7 Million Pound) |
| Market Value | 30 Million Euro (27 Million Pound) |
His contract got quickly upgraded after he had a very succesful 2017-2018 season. As a result this youngster is already a millionair, wow! His net worth is estimated to be around 3 Million Euro (2.7 Million Pound). As for his market value, it is going through the roof at the moment. He has obviously never been transfered given the fact that he is a youth-product. He is developing in to one of the best right backs in the Premier League and as such we think that his current market value is around 30 Million Euro (27 Million Pound).


Alexander-Arnold Tattoo - Does he have one?

Check out his teammates most hilarious and insane pieces in our Top 20 Craziest Tattoos of Liverpool Players 2018-19 (REVEALED)

No tattoos yet for this youngster, give him some time and we are sure some ink will eventually show up.
(Image: 90min.com)
Love Life - Single, Girlfriend or Wife?
Do NOT miss this one! Check our Top 25 Most Stunning Liverpool Players Wifes, Girlfriends and Affairs (Juicy Pics & Stories)

Trent Alexander-Arnold - Still Single
Look at this dude, ladies what are you waiting for? He is still waiting for his princess..
(Image: Imgur)
Family - Get to know them
Potential Step-Grandfather - Alex Ferguson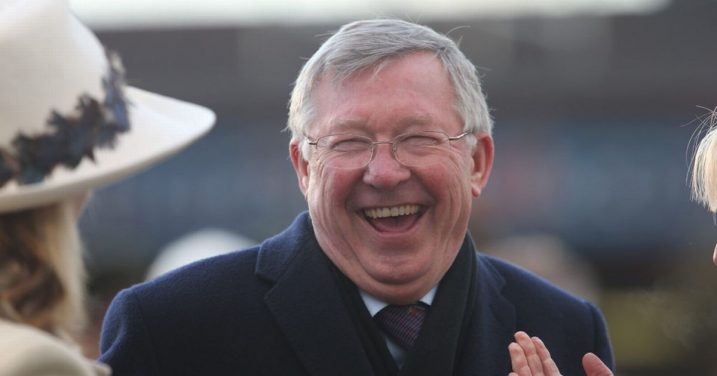 Sir Alex?! WTFoot found out that Trent's grandmother Dooreen was actually the first girlfriend of Manchester United's legendary former manager
(Image: Strettynews.com)
Alexander-Arnold Car - What does he drive?
Mercedes-AMG C 63 Coupe
He might be young but we are pretty sure his car is nicer than yours! Look at this stunning Benz. You can see him driving on to the Liverpool training facilities.
(Image: Dailymail.co.uk)
House - Where does he live?
Location: Liverpool
For now he still lives with his parents, but we think he might move out very soon. May we suggest this beautiful apartment building in Liverpool?
(Image: Imgur)

Boots
On what boots does the English number 66 of Liverpool play?
Under Armour Magnetico Pro (Season: 2018/2019)
During the 2018/2019 BPL season the English right back plays on model Under Armour Magnetico Pro.

Memes
We have collected the funniest memes on the web. Have a laugh! ¯\_(ツ)_/¯
Video


He is one of the most talented right backs, see for yourself!