Join WTFoot and discover everything you want to know about his current girlfriend or wife, his shocking salary and the amazing tattoos that are inked on his body. Find out what house the Portuguese goalkeeper lives in or have a quick look at his cars!
Wiki
| | |
| --- | --- |
| Birthdate | February 15th, 1988 |
| Birthplace | Marrazes, Portugal |
| Length | 1.90 m (6 ft 3 in) |
| Team | Wolverhampton Wanderers |
| Position | goalkeeper |
| Number | 11 |
| Nickname | Saint Patricio |
| Traits | Solid Player |
Patrício Salary & Net Worth Revealed
SALARY 2020
How much does he earn?
In July 2018 the goalkeeper signed a contract with Wolverhampton Wanderers that nets him a whopping salary of 6 Million Euro (5.2 Million Pound) per year. We have crunched the numbers, this means he earns €16,393 (£14,173) per day and €683 (£591) per hour!

| | | |
| --- | --- | --- |
| Per year | €6,000,000 | £5,187,300 |
| Per month | €500,000 | £432,275 |
Since you've been viewing this page, Rui Patrício has earned...
Wow! This means the average man in the UK needs to work for at least 14 years to earn the same as Saint Patricio earns in only 1 month.

Net Worth & Market Value
| | |
| --- | --- |
| Net Worth | 30 Million Euro (25.8 Million Pound) |
| Market Value | 18 Million Euro (15.5 Million Pound) |
Back in Portugal he had a good salary. In England? Even better! He earns 6 Million Euro per year and his net worth is currently estimated at 30 Million Euro (25.8 Million Pound). He is not the youngest player anymore but as we all know keepers can play at a high level un till the end of their thirties - there are many examples of that. His estimated market value is still 18 Million Euro (15.5 Million Pound).


Patrício Tattoo - Does he have one?
The Portuguese goalkeeper has a tattoo on his left arm. This picture was made when he was still protecting the goal of Sporting.
(Image: irishmirror.ie)
Here we see another ink on the side of his body. It's a text, probably with a deeper meaning, but we don't have any closer pictures to identify what is written.
(Image: pinimg.com)
Love Life - Single, Girlfriend or Wife?
Rui Patrício - Joana Pereira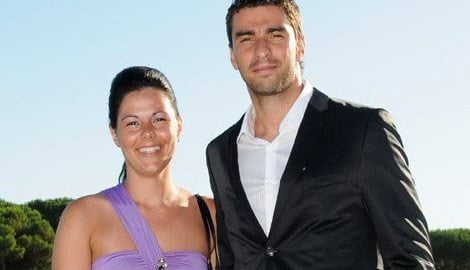 He and Joana tied the knot back in 2011. But guess what? They divorced only ONE month later!
(Image: fabwags.com)
Rui Patrício - Lilliana Aguiar
He then started dating the beautiful Lilliana Aguiar. But also this love story did not last very long: after a short period they separated.
(Image: Fabwags.com)
Rui Patrício - Vera Ribeiro
He is now happily married to Vera Ribeiro. She is a sexologist. During the World Cup 2018 she recommended the Portugal players to should continue masturbating. How funny!
(Image: Imgur.com)
Rui Patrício - Vera Ribeiro
Another lovely picture of the lovebirds. We at WTFoot hope they will stay together forever!
(Image: Imgur)
Family - Get to know them
Mother - Beliza

His sweet mother Beliza appeared several times on the Portuguese national television to talk about her talented son.
(Image: Imgur)
Son - Pedro

Their sweet son pedro was born in 2016. Will this be the new keeper of the Portuguese national team? Only time can tell us..
(Image: Lifebogger.com)
Daughter - Eva

Their second child is a girl whom they named Eva! He is a true family man. His children mean the world to him!
(Image: Imgur)
Patrício Car - What does he drive?
Mini Countryman

Arriving at the training ground of Wolverhampton Wanderers in his Mini Countryman. The price of this lovely car? 40.000 Euro!
(Image: cmjornal.pt)
House - Where does he live?
Location: Portugal
After his career he will definitely move back to Portugal. He doesn't like the rain. He still has a house in Portugal, close to Lissabon. And guess what WTFoot fans? It's next to the sea!
(Image: Imgur.com)
Bio
This amazing Portuguese goalkeeper was born in Marrazes. Before he moved to the Wolves he played twelve years for the Portugese club Sporting CP. Overthere he became a true legend: in twelve seasons he helped the club to win five trophies - including two Portuguese cups. He also was the first goalkeeper of the Portuguese squad for many years and helped his mate Cristiano Ronaldo to win the 2016 Euro Cup. Fun fact: before he became a goalkeeper he was playing as a striker. He joined Sporting CP in 2000 at the age of 12 and made his Primeria Liga debut in 2006 against C.S. Maritimo. In June 2018 he submitted a request to the board of Sporting to terminate his contract due to the dressing room violence from supporters. This year many respected players of Sporting CP left the club. He moved to the newly promoted Premier League team Wolverhampton Wanderers for a 18 Million Euro fee. The same summer it was announced that he signed a four-year-contract at the Molineux Stadium with an amazing salary of 6 Million Euro per year. He currently plays with number 11, quite unusual for a goalkeeper indeed. It is in honour of Carl Ikeme, the Wolves keeper who had just retired following treatment for acute leukaekemia. Saint Patricio made his BPL debut against Everton (2-2 draw) and convinced everybody of his capabilities in only a couple of games. Legend!