Join WTFoot and discover everything you want to know about his current girlfriend or wife, his shocking salary and the amazing tattoos that are inked on his body. Find out what house the English/Zimbabwean right winger lives in or have a quick look at his cars!
Wiki
| | |
| --- | --- |
| Birthdate | December 10th, 1999 |
| Birthplace | London, England |
| Length | 1.75 m (5 ft 9 in) |
| Team | Arsenal |
| Position | right winger |
| Number | 24 |
| Nickname | Lil' Nel |
| Traits | Speedster |
Nelson Salary & Net Worth Revealed
SALARY 2020
How much does he earn?
In July 2019 the right winger signed a contract with Arsenal that nets him a whopping salary of 1.8 Million Euro (1.6 Million Pound) per year. We have crunched the numbers, this means he earns €8,923 (£8,105) per day and €372 (£338) per hour!

| | | |
| --- | --- | --- |
| Per year | €1,800,000 | £1,635,039 |
| Per month | €150,000 | £136,253 |
Since you've been viewing this page, Reiss Nelson has earned...
Wow! This means the average man in the UK needs to work for at least 4.5 years to earn the same as Lil' Nel earns in only 1 month.

Net Worth & Market Value
| | |
| --- | --- |
| Net Worth | 9 Million Euro (8.2 Million Pound) |
| Market Value | 17 Million Euro (15.4 Million Pound) |
The Arsenal academy graduate has a net worth in the region of €9.1 million (£8.2 million). After showing substantial promise during his loan spell at German Bundesliga club TSG Hoffenheim the teenager's market value has seen a significant rise to €17 million (£15.4 million).


Nelson Tattoo - Does he have one?
Photographed on England U-21 duty, the Arsenal winger has a tribal tattoo embroidered on the entirety of his right thigh muscle.
(Image: Instagram)
Love Life - Single, Girlfriend or Wife?
Reiss Nelson -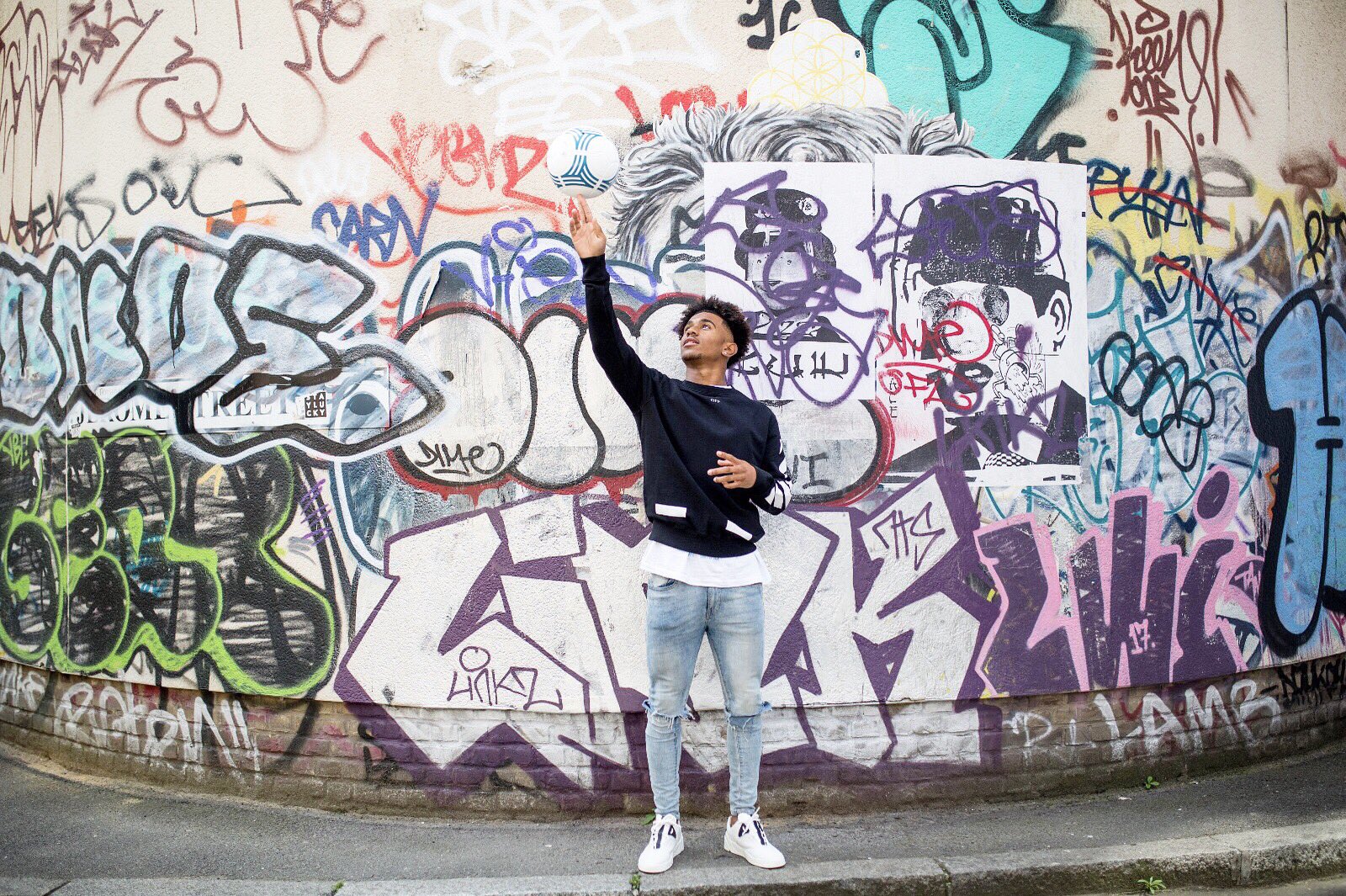 The 19 year old England and Arsenal forward is single and ready to mingle! Here he is posing as a tree on the streets of London to catch a bird or two on his branches!
(Image: Twitter)
Family - Get to know them
Mother - Phyllis

Phyllis embracing her son after he scored his first goal for German Bundesliga outfit TSG Hoffenheim.
(Image: Instagram)
Nelson Car - What does he drive?
The teenage winger prefers the waves of the seas to the traffic on the roads. He loves to ride on jet-skies whenever the opportunity presents itself.
(Image: Instagram)
House - Where does he live?
Location: London, England
Born and bred in London, the rising star of English football sits on the stairs of the home he had grown up in as a child, a sign of his humbleness amidst fame of modern day football.
(Image: Instagram)
Bio
Born in London, England, to parents of Zimbabwean and English lineage, he joined the Arsenal academy when he was nine years old and made a great impression on youth coaches, subsequently being regularly moved up to squads above his age group. Following several impressive performances in the youth teams, he signed his first professional contract with Arsenal on 10 December 2016. On 19 July 2017, the youngster made his first senior appearance against European opposition Bayern Munich in a 2017 International Champions Cup pre-season match. His first competitive appearance for Arsenal's first team came in the 2017 Community Shield, coming on as a substitute against Chelsea as Arsenal went on to win 4-1 on penalties, giving the youngster his first piece of silverware. On 20 January 2018, the Englishman made his Premier League debut, coming on as a second-half substitute in a 4-1 win against Crystal Palace. On 8 April 2018, he made his first Premier League start in a 3-2 win over Southampton. On 31 August 2018, he was sent out on a season-long loan to German Bundesliga club 1899 Hoffenheim. On 15 September 2018, he made his debut as a 72nd-minute substitute against Fortuna Düsseldorf, and scored within 14 minutes of entering the field of play, as Hoffenheim fell to a 2–1 defeat. He had a successful spell in Germany, scoring 7 goals in 23 league appearances. He returned to parent club Arsenal for the 2019/20 season.