Join WTFoot and discover everything you want to know about his current girlfriend or wife, his shocking salary and the amazing tattoos that are inked on his body. Find out what house the Dutch centre back lives in or have a quick look at his cars!
Wiki
| | |
| --- | --- |
| Birthdate | August 12th, 1999 |
| Birthplace | Leiderdorp, Netherlands |
| Length | 1.88 m (6 ft 2 in) |
| Team | Juventus |
| Position | centre back |
| Number | 4 |
| Nickname | Matta |
| Traits | Power Header |
de Ligt Salary & Net Worth Revealed
SALARY 2020
How much does he earn?
In July 2019 the centre back signed a contract with Juventus that nets him a whopping salary of 14 Million Euro (12.5 Million Pound) per year. We have crunched the numbers, this means he earns €38,251 (£34,591) per day and €1,594 (£1,441) per hour!

| | | |
| --- | --- | --- |
| Per year | €14,000,000 | £12,660,214 |
| Per month | €1,166,667 | £1,055,018 |
Since you've been viewing this page, Matthijs de Ligt has earned...
Wow! This means the average man in the UK needs to work for at least 35.2 years to earn the same as Matta earns in only 1 month.

Net Worth & Market Value
| | |
| --- | --- |
| Net Worth | 9 Million Euro (8.1 Million Pound) |
| Market Value | 85 Million Euro (77 Million Pound) |
He has only just started playing professional football but he is obviously The Golden Boy of European football. This ensures that his net worth is roughly 9 Million Euro (8.1 Million Pound). Now that he is at Juventus his net worth will certainly be going through the roof pretty soon. His market value is absolutely sky-high. He is the best young defender in Europe and one of the very best defenders overall. As such his market value is about 85 Million Euro (77 Million Pound).


de Ligt Tattoo - Does he have one?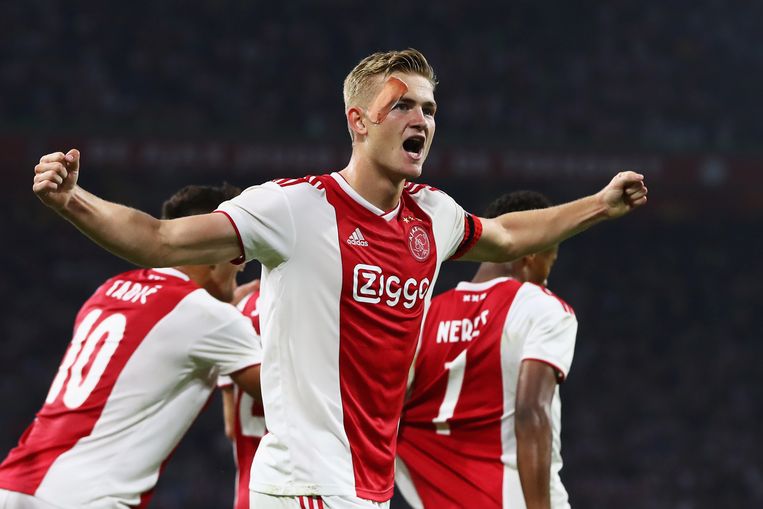 He is not scared about having a little blood on his head or playing with a massive bandaid. He does not have any tattoos however.
(Image: Persgroep.nl)
Love Life - Single, Girlfriend or Wife?
Matthijs de Ligt - Annekee Molenaar
Meet his girl: Annekee. She is the daughter of famous Dutch lawyer and ex-football player Keje Molenaar. The two got together in 2018.
(Image: Neveroffside.nl)
Matthijs de Ligt - Annekee Molenaar
The two at the Golden Boy awards (which the defender won). They are going to be in the spotlights a whole lot more, that is for sure!
(Image: Rtlboulevard.nl)
Matthijs de Ligt - Annick Diekman
Here is Annick, de ex-girlfriend of the Ajax man. He is quite the ladies-man, having already had two serious relationship at such a young age. We wonder if the relationship with Annekee will last...
(Image: Imgur)
Family - Get to know them
Family - Father Frank, Mother Vivian and his siblings

Here you see the family of the defender on a family trip in New York City, posing in front of the famous Brooklyn Bridge.
(Image: Ajaxshowtime.nl)
de Ligt Car - What does he drive?
Driving License Obtained
This really tells you just how young he still is! He only very recently got his driving license. Mercedes is the car-sponsor of Ajax, so very soon you will be seeing him driving around in a fancy Benz.
(Image: Telegraaf.nl)
House - Where does he live?
Location: Amsterdam, Netherlands
He does not usually post pictures of his home, but here you see him at his place in Amsterdam. He might have to move very soon though!
(Image: Imgur)
Bio
We all know him as the Golden Boy, this sturdy defender is one of the most promising players in European football and probably the most promising defender of his generation. He might very well be the best defender in the world one day and he is well on his way to become a great player. He was born and raised at Ajax, joining the famous youth academy of the Amsterdam team in 2008. He was always one of the finest prospects of the academy, mostly because of his massive fysical ability. He was always a whole lot stronger than his teammates and oppononents. He joined the first team of Ajax in 2016 and his first full season playing for the first team he immediately reached the finals of UEFA Europa League in the spring of 2017. In the summer of 2019 he was bought by Italian Giants Juventus. They paid a very high fee to acquire him: 75 Million Euro. He also is a regular player for the Dutch national team. He started his international career perhaps a bit too early, after one of the worst managers in Holland's history (Danny Blind) let him make his debut in the starting 11 at a very young age. The Golden Boy was only 17 years old at the time and made a few mistakes that ultimately made Holland lose the match. Right now he has already developed to be the man at the back for Holland, together with world-class defender Virgil van Dijk.