Join WTFoot and discover everything you want to know about his current girlfriend or wife, his shocking salary and the amazing tattoos that are inked on his body. Find out what house the English Right back lives in or have a quick look at his cars!
Wiki
| | |
| --- | --- |
| Birthdate | May 28th, 1990 |
| Birthplace | Sheffield, United Kingdom |
| Length | 1.78 m (5 ft 10 in) |
| Team | Manchester City |
| Position | Right back |
| Number | 2 |
| Nickname | None |
| Traits | Long Throw-in |
Kyle Andrew Walker is an English player who currently plays for Manchester City. He is playing as right back and he is known for his attacking rushes up the field. That is obviously why the Blue Team from Manchester contracted him in 2017. He has been having a significant impact on the team, helping them win the Premier League title in the 2017-2018 season, whilst breaking numerous records (including most poinst ever in a single season). Hiring the Englishman did of ofcourse cost the Citizens a lot of money. When the move from Tottenham Hotspur was made Man. City had to pay an astonishing fee of 50 Million Pound (56 Million Euro). The wing back was born in Sheffield, England. He is the son of an English mother and a Jamaican father. He is a regular in the English national team, The Three Lions. With that squad he played at the 2018 FIFA World Cup in Russia. That tournament was a big succes for England as they reached the semi-finals, in which they were eliminated by Croatia. For the right back this was a great feeling as he missed the EURO 2016 in France because of terrible toe-injury that he got while playing for Tottenham Hotspur.
Walker Fanshop
Are you a real Manchester City aficionado and are you looking to buy a cheap Walker 2019-20 jersey? Look no further! Now you can look just like the Right back from Sheffield, United Kingdom without breaking the bank!
Buy at DHGate

This item is in stock. Delivery is worldwide. Price ranges from USD $9.50 - 15.00.

Buy at DHGate

This item is in stock. Delivery is worldwide. Price ranges from USD $17.00 - 37.00.
Walker Salary & Net Worth Revealed
SALARY 2019
How much does he earn?
In July 14th, 2017 the Right back signed a contract with Manchester City that nets him a whopping salary of 7 Million Euro (6,1 Million Pound) per year. We have crunched the numbers, this means he earns €21,858 (£19,110) per day and €911 (£796) per hour!

| | | |
| --- | --- | --- |
| Per year | €8,000,000 | £6,994,360 |
| Per month | €666,667 | £582,863 |
Since you've been viewing this page, Kyle Walker has earned...

Net Worth & Market Value
| | |
| --- | --- |
| Net Worth | 29 Million Euro (25 Million Pound) |
| Market Value | 80 Million Euro (70 Million Pound) |
For a short while the Englishman was the world's most expensive defender ever. That definitely speaks volumes about his potential and his worth for the club. The right back has played for many years in the Premier League, most notably at the Spurs before his move to Man. City. He earned a massive salary at Spurs (4 Million Euro) which was almost doubled when he moved to Manchester (8 Million Euro). His net worth is estimated to be about 29 Million Euro (25 Million Pound). His market value is obviously very high, given the fact that he was once the most expensive defender in the whole world. In recent years the transfermarket has gone absolutely beserk so we think this right footed defender is worth about 80 Million Euro (70 Million Pound).


Walker Tattoo - Does he have one?
SHOCKING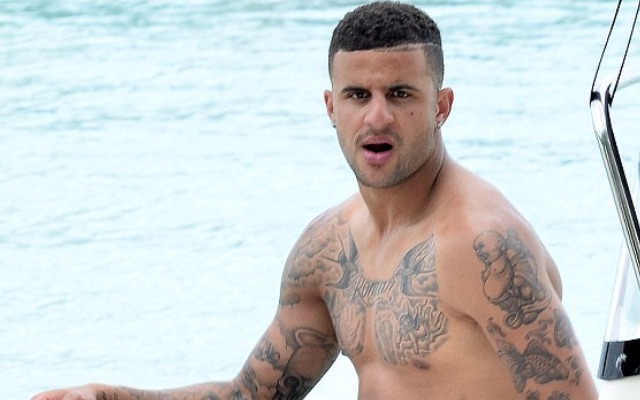 The Englishman is absolutely 'tatted-up'. Among his tattoos are a tribute to his grandfather, his sisters baby that passed away and on his chest he has the exact date that his first baby-boy was born.
(Image: caughtoffside.com)
Love Life - Single, Girlfriend or Wife?
HOT & JUICY
Kyle Walker Girlfriend - Annie Kilner
Here you see the beautiful girlfriend of the Man. City player. They are enjoying a beautiful vacation on a private boat. On the right hand-side you see Annie supporting her boyfriend at the 2018 FIFA World Cup in Russia
(Image: express.co.uk)
Kyle Walker Girlfriend - Annie Kilner
Annie and Kyle have announced that they want to have another child together. Perhaps the couple want to add a girl to the 3 boys they already have!
(Image: dailymail.co.uk)
Family - Get to know them
Son - Riaan

The right back and his girlfriend have 3 kids together, all boys. Here you see one of the kids with his father at the FIFA World Cup in Russia.
(Image: twitter.com)
Son - Roman

Roman is one of the younger boys of the defender. This boy is adorable! On this picture you see him with his father when he was still playing at the Spurs.
(Image: mancity.com)
Walker Car - What does he drive?
Bentley
This brandnew Bentley is all the fancy you want already but it also sports a build-in PlayStation 4. Kyle loves to play some FIFA on his way to the training ground.
(Image: voetballoopbaan.nl)
House - Where does he live?
Location: Manchester, United Kingdom
There is very little information about the house the right back lives in but we do know he has a huge sneaker collection in his home. Here he is proudly showing his latest additions.
(Image: dailymail.co.uk)

Boots
On what boots does the English number 2 of Manchester City play?
Nike Mercurial Superfly VI Elite (Season: 2017/2018)
During the 2017/2018 BPL season the English Right back plays on model Nike Mercurial Superfly VI Elite.

Video


The wing defender is very much known for his speed and his attacking rushes. This video clearly demonstrates why his so valuable for the Citizens.