Join WTFoot and discover everything you want to know about his current girlfriend or wife, his shocking salary and the amazing tattoos that are inked on his body. Find out what house the English right back lives in or have a quick look at his cars!
Wiki
| | |
| --- | --- |
| Birthdate | April 13th, 1997 |
| Birthplace | Edmonton, England |
| Length | 1.75 m (5 ft 9 in) |
| Team | Tottenham Hotspur |
| Position | right back |
| Number | 16 |
| Nickname | KWP |
| Traits | Standing Tackler |
Hello all and welcome to the wiki of this talented defender. Not to be confused with the Manchester City full back ofcourse! He (KWP) is currently playing for Tottenham Hotspur in the English Premier League. He was born in Edmonton, which is a very international area within the Greater London area. He grew up with a lot of international friends and thus he is quite cosmopolitan. He started his career at the youth-academy of Tottenham in North-London. Very quickly it became apparent that this guy was talented, very talented. In 2017 he made his debut for the first team of Tottenham which is something he had always dreamed of ever since he was a little boy. Ever since that moment he has not yet played a whole lot of games but he did make his debut in the UEFA Champions League. A rather unfortunate piece of play by KWP did lead to a goal but he and his teammates did manage to secure a 1-1 draw versus Barcelona. He does not only play club football because he is a part of the youth-teams of the Three Lions, Englands national team. He has played for the U18-19-20 and 21 and now he should be ready to perhaps join the senior squad. We are keeping a close eye on KWP and so should you!
Walker-Peters Fanshop
Are you a real Tottenham Hotspur aficionado and are you looking to buy a cheap Walker-Peters 2019-20 jersey? Look no further! Now you can look just like the right back from Edmonton, England without breaking the bank!
Buy at DHGate

This item is in stock. Delivery is worldwide. Price ranges from USD $9.00 - 18.00.

Buy at DHGate

This item is in stock. Delivery is worldwide. Price ranges from USD $15.00 - 30.00.
Walker-Peters Salary & Net Worth Revealed
SALARY 2019
How much does he earn?
In 2018 the right back signed a contract with Tottenham Hotspur that nets him a whopping salary of 1.2 Million Euro (1 Million Pound) per year. We have crunched the numbers, this means he earns €3,279 (£2,872) per day and €137 (£120) per hour!

| | | |
| --- | --- | --- |
| Per year | €1,200,000 | £1,051,132 |
| Per month | €100,000 | £87,594 |
Since you've been viewing this page, Kyle Walker-Peters has earned...

Net Worth & Market Value
| | |
| --- | --- |
| Net Worth | 1 million euro (900.000 Pound) |
| Market Value | 9 million euro (8.1 Million Pound) |
He has obviously only just started his professional career and as a result he has not really made loads of cash yet. Yet. Expect this number to rise but at the moment his Net Worth is about 1 million euro (900.000 Pound). His Market Value is rising and rising. At the moment, after thorough calculations, we have estimated to be about 9 million euro (8.1 Million Pound).


Walker-Peters Tattoo - Does he have one?
SHOCKING
No ink for this youngster, yet. Give him some time though. He might just be calling a tattoo-artist here.. With his boot?!
(Image: Imgur)
Love Life - Single, Girlfriend or Wife?
HOT & JUICY
Kyle Walker-Peters - Single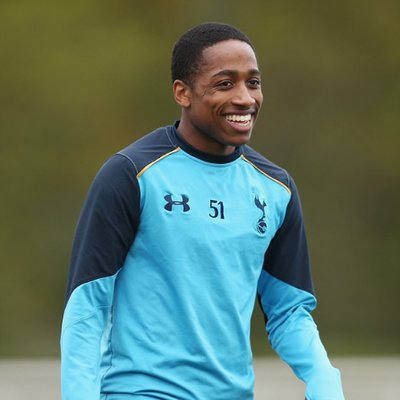 Look at this happy smiling lad. Isn't that to absolutely die for? He is still single.
(Image: Twitter)
Family - Get to know them
Father Figure - Coach Pochettino

Little is known about his family, he keeps to himself and does not regularly share anything about his personal life. He has stated that Tottenham manager Pochettino is like a father figure for him.
(Image: Imgur)
Walker-Peters Car - What does he drive?
Audi
So young but already driving a beautiful Audi. And signing an autograph at the same time, this guy can do it all!
(Image: Imgur)
House - Where does he live?
Location: London, United Kingdom
Sitting at home with Santa Claus Vertonghen, happy holidays people!
(Image: Imgur)

Boots
On what boots does the English number 16 of Tottenham Hotspur play?
adidas 11pro (Season: 2018/2019)
During the 2018/2019 BPL season the English right back plays on model adidas 11pro.

Video


An excellent performance by KWP versus Leicester City.