Join WTFoot and discover everything you want to know about his current girlfriend or wife, his shocking salary and the amazing tattoos that are inked on his body. Find out what house the Portuguese left winger lives in or have a quick look at his cars!
Wiki
| | |
| --- | --- |
| Birthdate | February 5th, 1985 |
| Birthplace | Madeira, Portugal |
| Length | 1.87 m (6 ft 2 in) |
| Team | Juventus |
| Position | left winger |
| Number | 7 |
| Nickname | CR7 |
| Traits | Clinical Finisher/Aerial Prowess/Technical Dribbler |
Ronaldo Salary & Net Worth Revealed
SALARY 2020
How much does he earn?
In July 2018 the left winger signed a contract with Juventus that nets him a whopping salary of 57 Million Euro (49 Million Pound) per year. We have crunched the numbers, this means he earns €282,570 (£244,262) per day and €11,774 (£10,178) per hour!

| | | |
| --- | --- | --- |
| Per year | €57,000,000 | £49,272,510 |
| Per month | €4,750,000 | £4,106,043 |
Since you've been viewing this page, Cristiano Ronaldo has earned...
Wow! This means the average man in the UK needs to work for at least 136.9 years to earn the same as CR7 earns in only 1 month.

Net Worth & Market Value
| | |
| --- | --- |
| Net Worth | 400 Million Euro (350 Million Pound) |
| Market Value | 90 Million Euro (78 Million Pound) |
The Portuguese footballer is considered to be one of the greatest players to ever play the beautiful game. His career has spanned three of the biggest clubs in world football, from Manchester United to Real Madrid to Juventus. One of the richest athlete's in the world, CR7's net worth is approximated at €400 million (£350 million). Despite being in the twilight of his career, the 34-year old is still worth in excess of €90 million (£78 million).


Ronaldo Tattoo - Does he have one?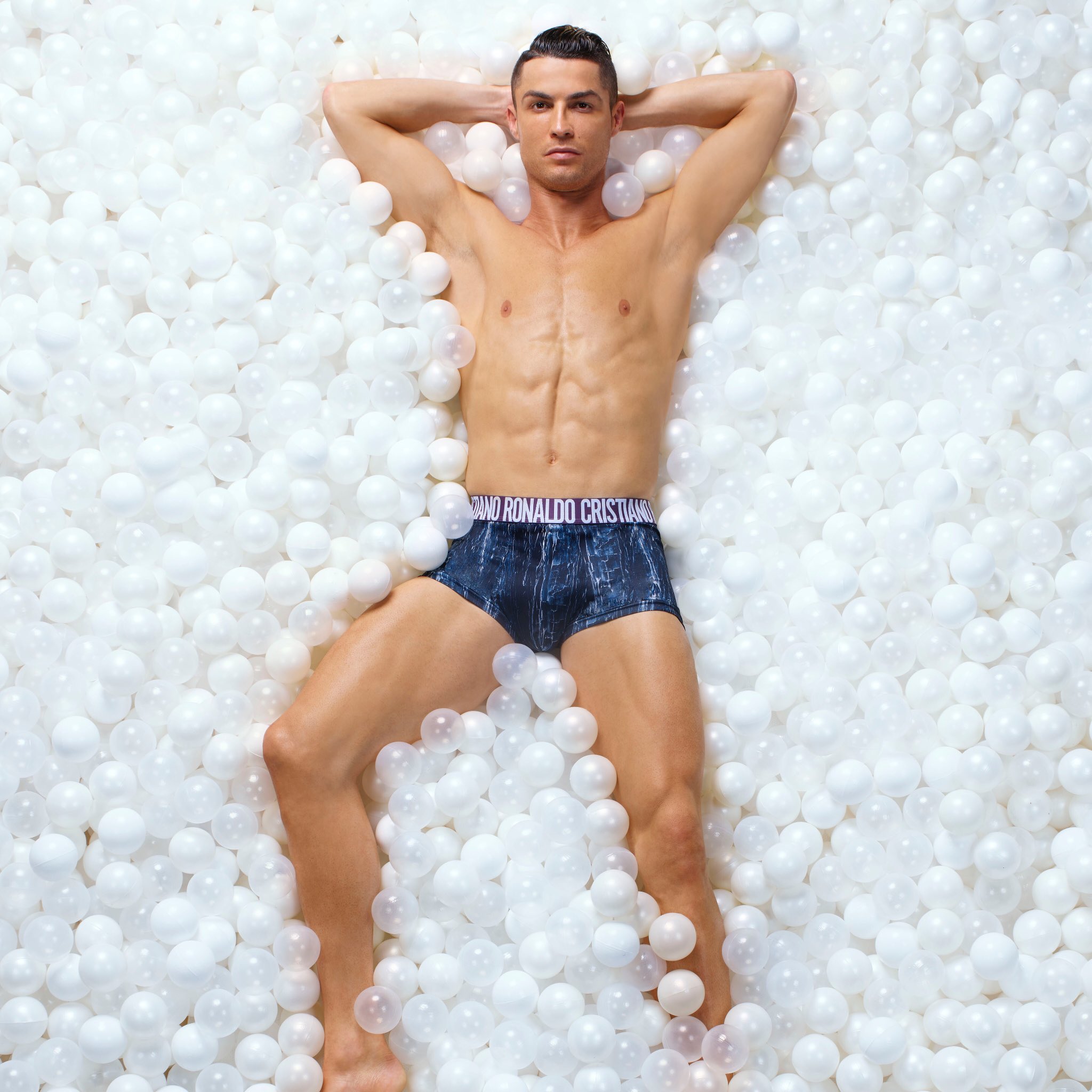 CR7 is his own brand and his underwear has gained immense popularity worldwide since its inception. The footballer does his own modelling, (and lets face it, why wouldn't you would looks like his) displaying his chiseled body without a blotch of ink-perfection.
(Image: Twitter)
Love Life - Single, Girlfriend or Wife?
Cristiano Ronaldo - Georgina Rodríguez
Georgina learned to dance before switching her career to modelling, however, the Argentinian beauty still has time for her past passion! She posted a glimpse of her talents for her 13.9 million Instagram followers.
(Image: Instagram)
Cristiano Ronaldo - Georgina Rodríguez
The gorgeous couple met while she was working for Gucci as a sales assistant. According to reports it was love at first sight! She is the mother of CR7's daughter Alana, and also raises his three children.
(Image: Instagram)
Cristiano Ronaldo - Irina Shayk
Irina Shayk is a Russian model and an icon in the industry of fashion. She has recently made her acting debut, working alongside Dwayne Johnson in the Hollywood blockbuster Hercules.
(Image: Instagram)
Cristiano Ronaldo - Irina Shayk
The couple's five-year relationship was well documented and publicized by the media. The glamorous duo featured on the cover of multiple fashion magazines. They announced the their mutual split towards the end of 2016.
(Image: Instagram)
Family - Get to know them
Mother - Maria Dolores

The Portuguese footballer credits his mother as the most influential person in his life. In his documentary film, she revealed, that during the time due to financial and social constraints, she considered aborting him as a baby, however, Dolores stayed strong and raised her kids after the untimely passing of her husband.
(Image: Instagram)
Son - Cristiano Ronaldo Jr.

Like father like son. Cristiano Ronaldo Jr. is already breaking records for Juventus' U9 side. It is without a shadow of a doubt we'll see him take the mantle of his great father. Will he leave up to expectations? We reckon, he'll smash em!
(Image: Instagram)
Ronaldo Car - What does he drive?
Rolls Royce Phantom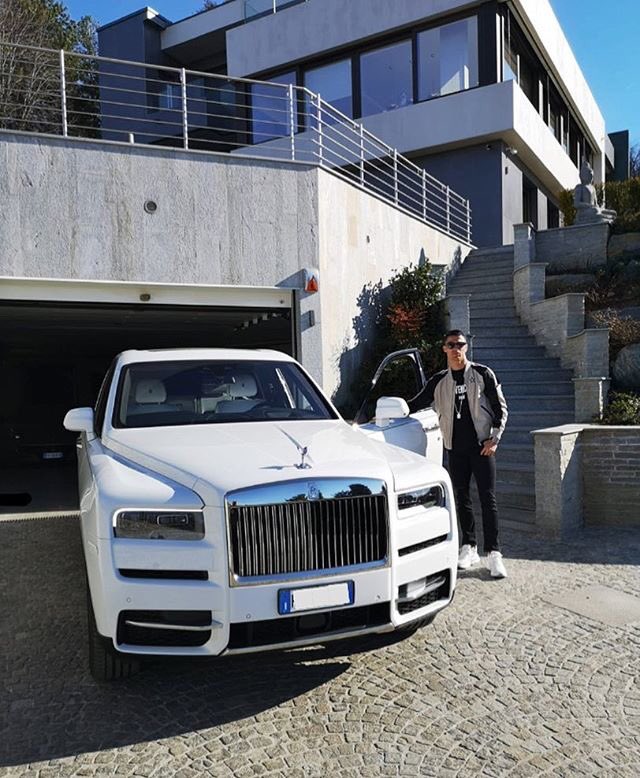 The Juventus ace photographed in front of his mansion in Turin, Italy with one of his favourite automobiles, the luxurious, elegant, all-white Phantom!
(Image: Twitter)
Mercedes V8 Biturbo
Once in a while CR7 will hop behind the wheels of a Mercedes.
(Image: Instagram)
Ferrari 812 Superfast
The fastest Ferrari ever built. The Juventus forward burst on to the scene with an abundance of tricks and frightening pace! The 34-year old might have lost some of his earlier quickness but he more than makes up for it with this speed demon!
(Image: Instagram)
House - Where does he live?
Location: Turin, Italy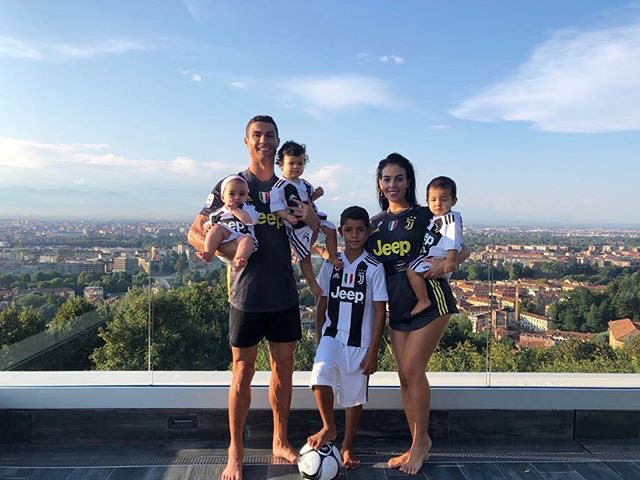 The Portuguese footballer currently resides in Turin, Italy with his family. Photographed on the porch of his mansion overlooking the city, he poses with his partner and children to announce himself to the Juventus faithful.
(Image: Twitter)
Bio
Born in Madeira, Portugal, he first came into contact with football through local club Andorinha, where his father worked as a kit-man. After moving to Lisbon in 1997, he signed for Sporting CP, and his professional debut in the Primeira Liga on 7 October 2002, scoring twice in a 3-0 win over Moreirense. In August 2003, Sporting defeated English giants Manchester United 3-1 in a friendly game; Sir Alex Ferguson was so impressed by the teenagers displays, he made sure to sign the Portuguese prodigy before The Red Devils departed the Estádio José Alvalade. The "Theatre of Dreams" and the guidance of Sir Alex would be the perfect mix for boy wonder to transition in to the best footballer on the planet. CR7 scored 118 goals and provided 68 assists in 292 games for Man Utd, winning every trophy available domestically. In the 2007/08 campaign, the Portuguese sensation scored 42 goals, as Man Utd completed a Premier League and UEFA Champions League double; at the end of the season he was voted as FIFA World Player of the Year and Ballon d'Or winner. In the summer of 2009, Real Madrid paid a world record fee of £80 million (€94 million), to bring CR7 to the Santiago Bernabéu. Wearing the all-white of Madrid, the Portuguese superstar, scored 450 goals in 438 matches. During this period the Los Blancos enjoyed their most successful era since the 60s, winning a hat-trick of UEFA Champions League, in addition to every trophy available in Spain; whilst CR7 was voted as the best player in the world on 4 more occasions. On 10 July 2018, he signed for Serie A giants Juventus; CR7 marked his first season in Italy winning the Scudetto. On the international scene, he is Portugal's highest ever goalscorer, and has won the 2016 UEFA European Championship, as well as the inaugural UEFA Nations League.