Join WTFoot and discover everything you want to know about his current girlfriend or wife, his shocking salary and the amazing tattoos that are inked on his body. Find out what house the Spanish center forward lives in or have a quick look at his cars!
Wiki
| | |
| --- | --- |
| Birthdate | July 29th, 1993 |
| Birthplace | Santa Cruz de Tenerife, Spain |
| Length | 1.79 m (5 ft 10 in) |
| Team | Newcastle United |
| Position | center forward |
| Number | 17 |
| Nickname | The Showman |
| Traits | Speed Dribbler |
Bio: Dear WTFoot fans, hello and a warm welcome to the profile of the Spanish attacking midfielder / forward of Newcastle United. This lad launched his career at his hometown club SD Tenerife, for whom he played his first professional match in August 2013. He impressed in his first two seasons for Tenerife - even so much that Real Madrid, FC Barcelona and FC Porto showed interest in the young and promising Spanish attacker. But guess what? He rejected all of this amazing clubs to follow his dream - and that was playing in the Premier League. He joined Newcastle United for an estimated 3 Million Euro fee and made his debut for The Magpies in August 2014 against Manchester City (2-0 defeat). He scored his first goal two months later in the 2-1 away win over Tottenham Hotspur. Currently he is already playing several years for Newcastle United and is one of the most beloved players at the club. When Newcastle United dropped to the Championship, he showed his love for the club and stayed despite the relegation. He helped the club to return in the Premiership after one season. In April 2019 he scored his first hattrick for the club, in the 3-1 win over Southampton. He made all the goals and took the match ball home!
Pérez Salary & Net Worth Revealed
SALARY 2019
How much does he earn?
In February 2016 the center forward signed a contract with Newcastle United that nets him a whopping salary of 2.6 Million Euro (2.2 Million Pound) per year. We have crunched the numbers, this means he earns €7,104 (£6,298) per day and €296 (£262) per hour!

| | | |
| --- | --- | --- |
| Per year | €2,600,000 | £2,305,204 |
| Per month | €216,667 | £192,100 |
Since you've been viewing this page, Ayoze Pérez has earned...
Wow! This means the average man in the UK needs to work for at least 6 years to earn the same as The Showman earns in only 1 month.

Net Worth & Market Value
| | |
| --- | --- |
| Net Worth | 12 Million Euro (10.5 Million Pound) |
| Market Value | 10 Million Euro (8.6 Million Pound) |
He was (and still is) a very promising player when he used to play for Tenerife. Many international topclubs wanted his signature but he decided to join Newcastle United. And The Magpies had to pay a lil' amount of money for that. They offered him a long term contract with a stunning 2.6 Million Euro (2.2 Million Pound) salary per year. His current net worth is estimated at 12 Million Euro (10.5 Million Pound). This lad is still young and already has tons of professional football experience at the highest level. He currently has a price tag of about 10 Million Euro (8.6 Million Pound).


Pérez Tattoo - Does he have one?
Here we see the fit player chilling at the beach of Boqueron, Puerto Rico. No ink, thats for sure. But watch out Ayoze, somebody is drowning behind you!
(Image: Instagram)
Love Life - Single, Girlfriend or Wife?
Ayoze Pérez - Still Single
This good looking lad is still single! He tries to enjoy the single life as long as possible.
(Image: LifeBogger.com)
Family - Get to know them
Family - Father & Mother

The Perez family came to Newcastle upon Tyne for new years evening. He uploaded this picture to his own Instagram and captioned: "The Perez family wish you all a Happy New Year! #2019 #family #happynewyear #newcastle #england #2018 - La familia Perez les desea Feliz año Nuevo! #familia #inglaterra #felizañonuevo"
(Image: Imgur)
Brother - Samuel

This party animal is his brother Samuel! It might surprise you when you look at this picture, but he is a professional football player as well. He currently plays for Ashington FC.
(Image: Imgur)
Mother - Unknown

He uploaded this picture of his mum to his Instagram on the 1st of may 2016. Let him explain why: "The 1st of may is always a special day for me... today is the birthday of my dear mother. Thanks for being as you are, thanks for everything. Thanks especially for your bravery and generosity. Happy birthday mom, I Love you!"
(Image: Imgur)
Pérez Car - What does he drive?
Audi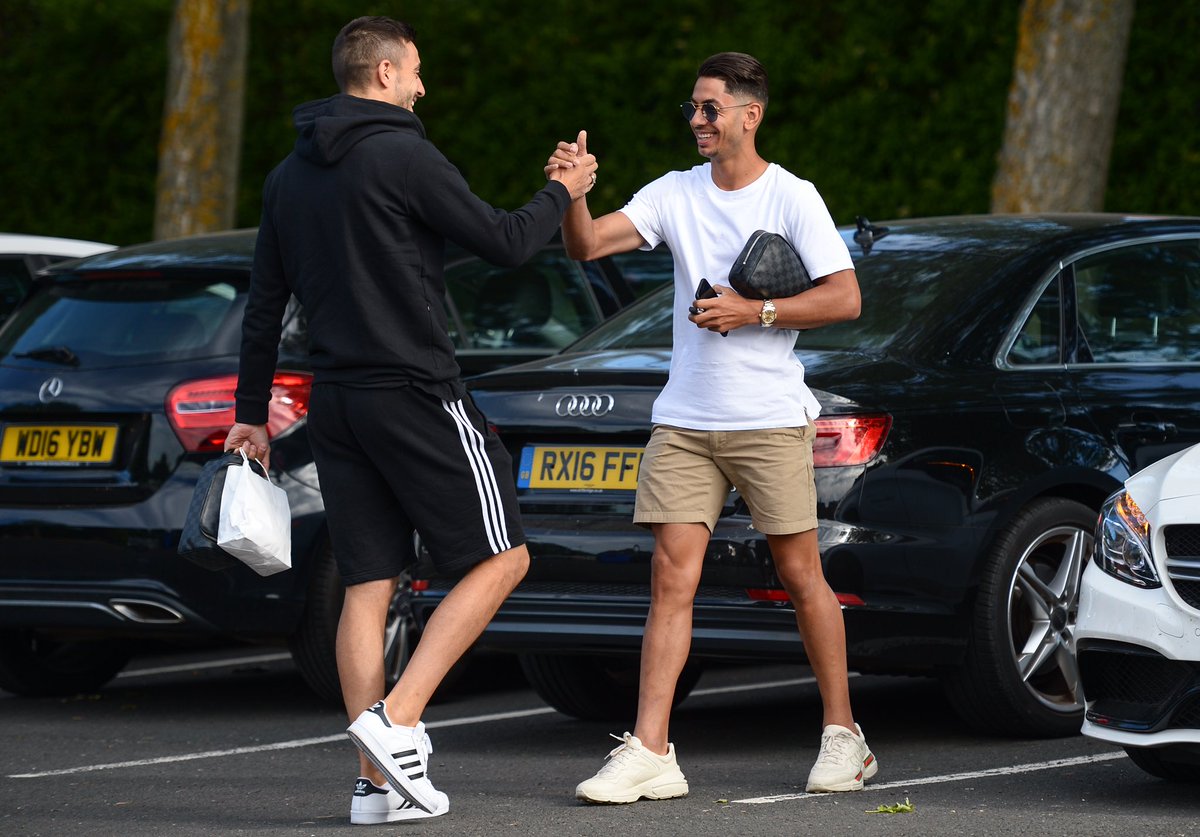 At this picture, made at Newcastle United's training ground, we see him meeting a friend in front of his beautiful black Audi.
(Image: Twitter)
House - Where does he live?
No information available about his houses.


Boots
On what boots does the Spanish number 17 of Newcastle United play?
adidas X 19+ (Season: 2019-20)
During the 2019-20 BPL season the Spanish center forward plays on model adidas X 19+.

Memes
We have collected the funniest memes on the web. Have a laugh! ¯\_(ツ)_/¯
Video

https://www.youtube.com/watch?v=PkmpYDgd74Y
Newcastle United's Spain under-21 international striker Ayoze Pérez scored four goals in an 8-0 win against a Carlisle United XI and this was the pick of the bunch!