Join WTFoot and discover everything you want to know about his current girlfriend or wife, his shocking salary and the amazing tattoos that are inked on his body. Find out what house the Ecuadorian right midfielder lives in or have a quick look at his cars!
Wiki
| | |
| --- | --- |
| Birthdate | August 4th, 1985 |
| Birthplace | Lago Agrio, Ecuador |
| Length | 1.80 m (5 ft 11 in) |
| Team | LDU Quito |
| Position | right midfielder |
| Number | 25 |
| Nickname | El Comandante |
| Traits | Team Player |
Bio: Luis Antonio Valencia Mosquera is a professional footballer from Ecuador who plays for Manchester United and the national Ecuadorian team. During his career he played everywhere at the right side: right back, right midfielder, right winger. El Comandante is one of the most multifunctional players out there and that is what makes him a real team player! He started his career at El Nacional in Ecuador but moved to Villareal after two years in which he showed his amazing potential. His move to Spain was not immediately an amazing success, so he went on loan to Recreativo de Heulva. It was in 2006 when he moved to the Premier League, the league in which he seems to play since forever! After two highly successful years in Wigan he became the first summer signing of Manchester United in 2009. He signed a four year contract at Old Trafford, and was bought for about 16 Million Pound. With Man. Utd he won the Premier League, the FA Cup, the League Cup and even the Europe League! In the summer of 2019 he decided it was time for him to move back home. He is going to play in Quito for LDU Quito.
Valencia Salary & Net Worth Revealed
SALARY 2019
How much does he earn?
In 2019 the right midfielder signed a contract with LDU Quito that nets him a whopping salary of 6.2 Million Euro (5.5 Million Pound) per year. We have crunched the numbers, this means he earns €16,940 (£14,879) per day and €706 (£620) per hour!

| | | |
| --- | --- | --- |
| Per year | €6,200,000 | £5,445,614 |
| Per month | €516,667 | £453,801 |
Since you've been viewing this page, Antonio Valencia has earned...
Wow! This means the average man in the UK needs to work for at least 15 years to earn the same as El Comandante earns in only 1 month.

Net Worth & Market Value
| | |
| --- | --- |
| Net Worth | 40 Million Euro (35 Million Pound) |
| Market Value | 5 Million Euro (4.4 Million Pound) |
In 2012 his market value was (according to transfermarket.com) about 27.5 Million Euro, but it won't come as a surprise that this is much less right now. His contract at The Red Devils is almost expiring and he's not the youngest player anymore either. His current market value is 5 Million Euro. He had highly successfull years at Manchester United and earned a royal salary in exchange: his current net worth is estimated at 40 Million Euro (35 Million Pound)! Where will this lad continue his career? In Quito apparently!


Valencia Tattoo - Does he have one?
He has a 'Chucho memorial' tattoo on his shoulder. Chucho is the nickname of Christian Benitez, his former teammate in Ecuador's youth team who died tragically in 2013.
(Image: marca.es)
He also has two tattoos on his chest, as you can see at this mirror selfie.. This picture is one of the explicit selfies he sent to two women behind his wife's back in 2014. They branded him for a creep who wanted sex. Apparently he also sent pictures of his willy..
(Image: thesun.co.uk)
Love Life - Single, Girlfriend or Wife?
Antonio Valencia Affair - Sophie Vagsaeter
In 2016 he was involved in an alleged hotel tryst with a nurse called Sophie Vagsaeter. He sent her raunchy messages on Instagram before they met in a hotel near the airport of Manchester. It was a scandal since he was a married man back then.
(Image: irishmirror.ie)
Antonio Valencia Affair - Sophie Vagsaeter
Another picture of Sophie, who seems to love tattoos!
(Image: thesun.co.uk)
Antonio Valencia Affair - Sophie Vagsaeter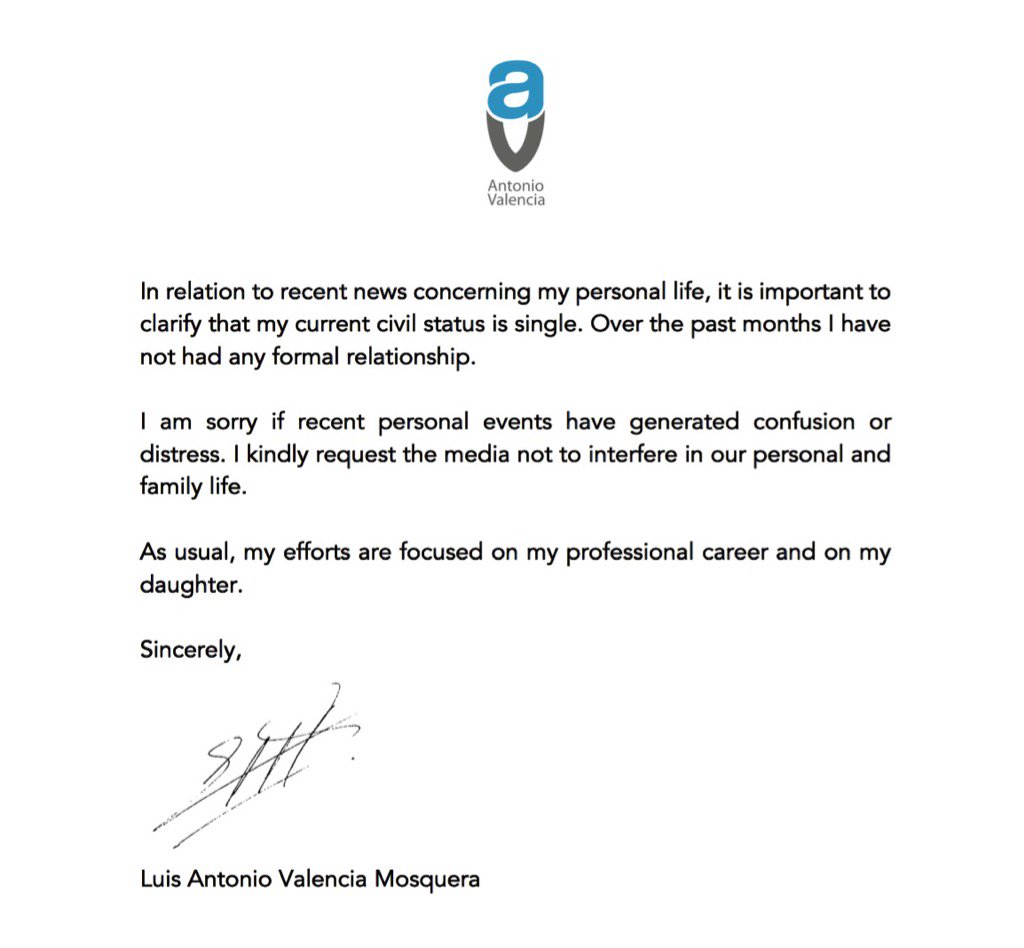 Shortly after Antonio posted this picture on his twitter account: "In relation to recent news concerning my personal life, it's important to clarify that my current civil status is single. Over the past months I have not had any formal relationship!"
(Image: thesun.co.uk)
Antonio Valencia Ex-wife - Zoila Meneses
He divorced his wife in 2016. At this picture we see the couple in happier times!
(Image: irishmirror.ie)
Family - Get to know them
Father - Luis Antonio

At this picture we see him with his father Luis Antonio in a car. His father used to be a very poor man who used to collect and sell empty bottles to earn money.
(Image: Imgur.com)
Mother - Teresa Mosquera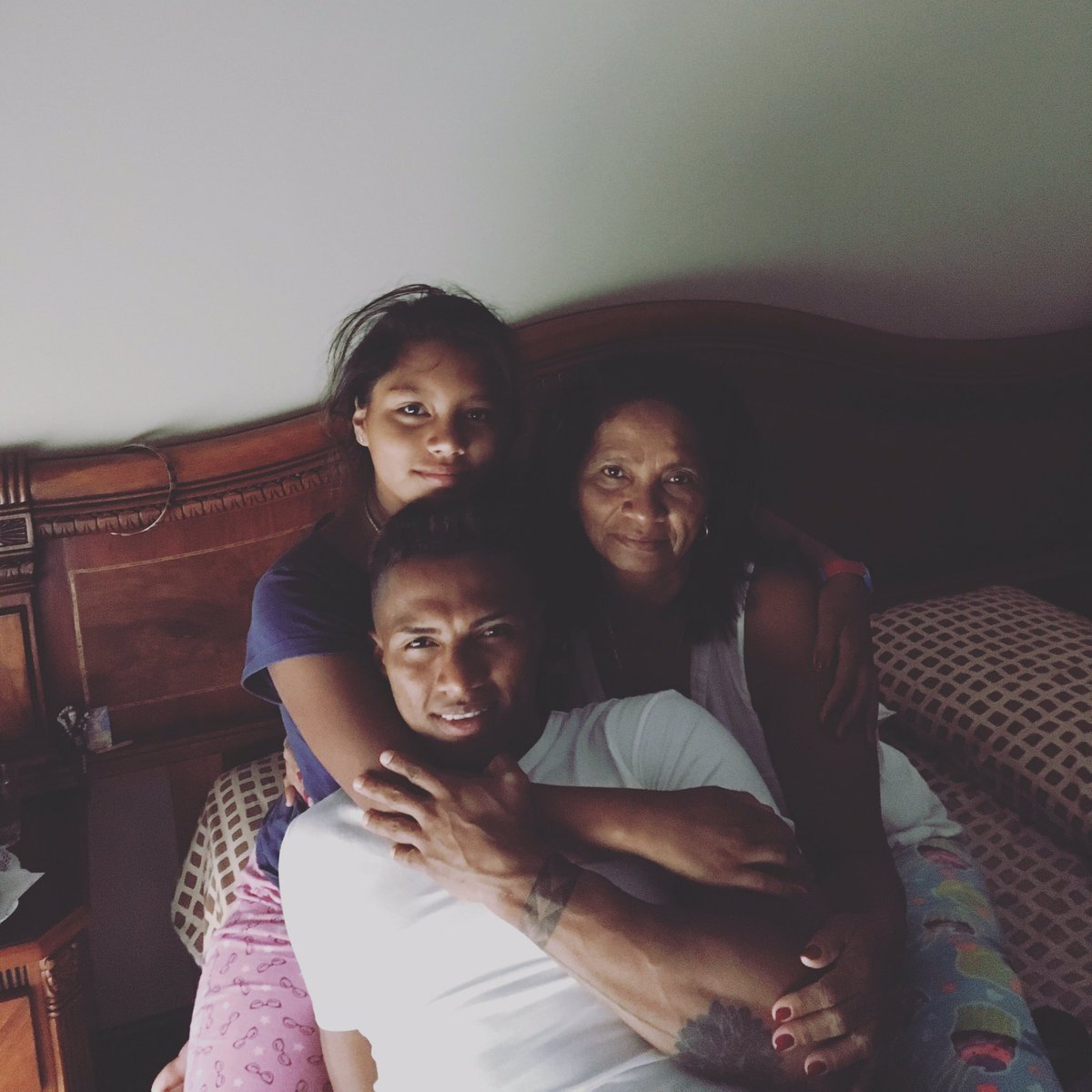 He uploaded this picture to Twitter at the birthday of his sweet mother. "Feliz cumpleaños Mamita Linda. Happy Birthday Mother" he added.
(Image: Twitter.com)
Daughter - Domenica

At tis picture we see him with his lovely daughter Domenica, who he had from his first marriage with Zoila.
(Image: Imgur.com)
Brother - Éder

His brother Éder is a professional footballer as well and played for many clubs in South-America.
(Image: Imgur.com)
Valencia Car - What does he drive?
Range Rover
He owns a silver Range Rover. At this picture we see him leaving the training ground of Manchester United.
(Image: DailyMail.co.uk)
Chevrolet
He also owns this beautiful speedy black Chevrolet with a white bonnet.
(Image: dailymail.co.uk)
House - Where does he live?
Location: Manchester, United Kingdom
Here we see him not at home, but in a hospital bed. During his severe injury he kind of lived in the hospital. It almost became his second house!
(Image: manchestereveningnews.co.uk)

Boots
On what boots does the Ecuadorian number 25 of LDU Quito play?
Nike Tiempo Legend VII (Season: 2018/2019)
During the 2018/2019 BPL season the Ecuadorian right midfielder plays on model Nike Tiempo Legend VII.

Memes
We have collected the funniest memes on the web. Have a laugh! ¯\_(ツ)_/¯
Video


Antonio vs. Marcelo. Who wins? Check this video and find it out yourself. Legend!